Benita Chacko, The Indian Express, August 31 2017
"Mumbai would be the only smart city in the world, which constructs buildings first and then thinks of providing infrastructure. That area, too, is then made into parks, open spaces, mangroves and wetlands."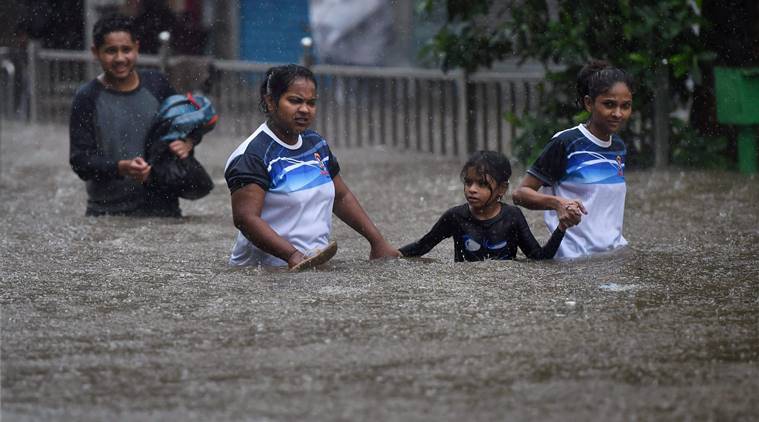 Mumbai: People make their way through a flooded street during heavy rains in Mumbai on Tuesday. (PTI/File Photo)
Environmentalists have reiterated the importance of mangroves in preventing flooding, a day after rain lashed the city. Environmentalist Debi Goenka said: "Mangroves have an extensive root system and act like sponges in absorbing excess water. But we are only looking at the short term. The Chief Minister is looking at providing ease of business. This gives builders a free hand to do as they like. Mumbai would be the only smart city in the world, which constructs buildings first and then thinks of providing infrastructure. That area, too, is then made into parks, open spaces, mangroves and wetlands."
According to Goenka, the eastern suburbs would not see as much of flooding earlier due to the presence of mangroves. "But now after increased dumping in Kanjurmarg and Bhandup the mangroves have been destroyed and with the proposed Sewage Treatment Plant (STP) in Malad, it will also soon head the same way," she added. Goenka alleged that the Mangrove Cell has failed in protecting the mangroves in areas where it is degrading.
"Today, the cell is into a lot of activities, which it was not initially meant for. While this has worked well for the state's biodiversity, it has not worked really well for the mangroves," he added. According to Stalin D of Vanashakti, it was not just the mangroves that needed to be protected but the wetlands too. "If we are to compare the data with 2005 we seem to have conserved our mangroves. We need to protect the wetlands as well. When we create obstacles between the water bodies like ponds, lakes, rivers, creeks, etc and land it is bound to cause flooding," he added.
Commending the Mangroves Cell for the work done in protecting the mangroves, Stalin said, "Mangroves cannot be moved from one place to another as it is at a particular location for a reason. We need to prevent the tradeoff of the mangrove land for development projects. However this is lost on the judiciary." Officials from the Mangrove Cell were unavailable for comment.