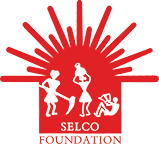 CAT is working with SELCO Foundation at grass-root level to provide renewable energy solutions to the locals of villages Bhagwanpur and Ghatpendari, Maharashtra. Bhagwanpur is a rehabilitation site for Tadoba Andhari Tiger Reserve and Ghatpendari is a rehabilitation site for Pench Tiger Reserve, Maharashtra. SELCO Foundation as a partner has provided with renewable solutions under this project.
Under the project, installation of 2 HP solar based pump designed to pump 10000 litres of drinking water from the bore-well has been installed at Bhagwanpur. At Ghatpendari, mini grid solar project has been installed. We have currently provided 2 lights and 1 Mobile charging service operating every day from 7 pm to 12 pm to 76 houses.
Local residents have been trained under both the projects which would enable the villagers to handle the system independently.
These renewable energy interventions will not only help them with facilitating with the basic requirements and drinking water but will also augment their livelihood.