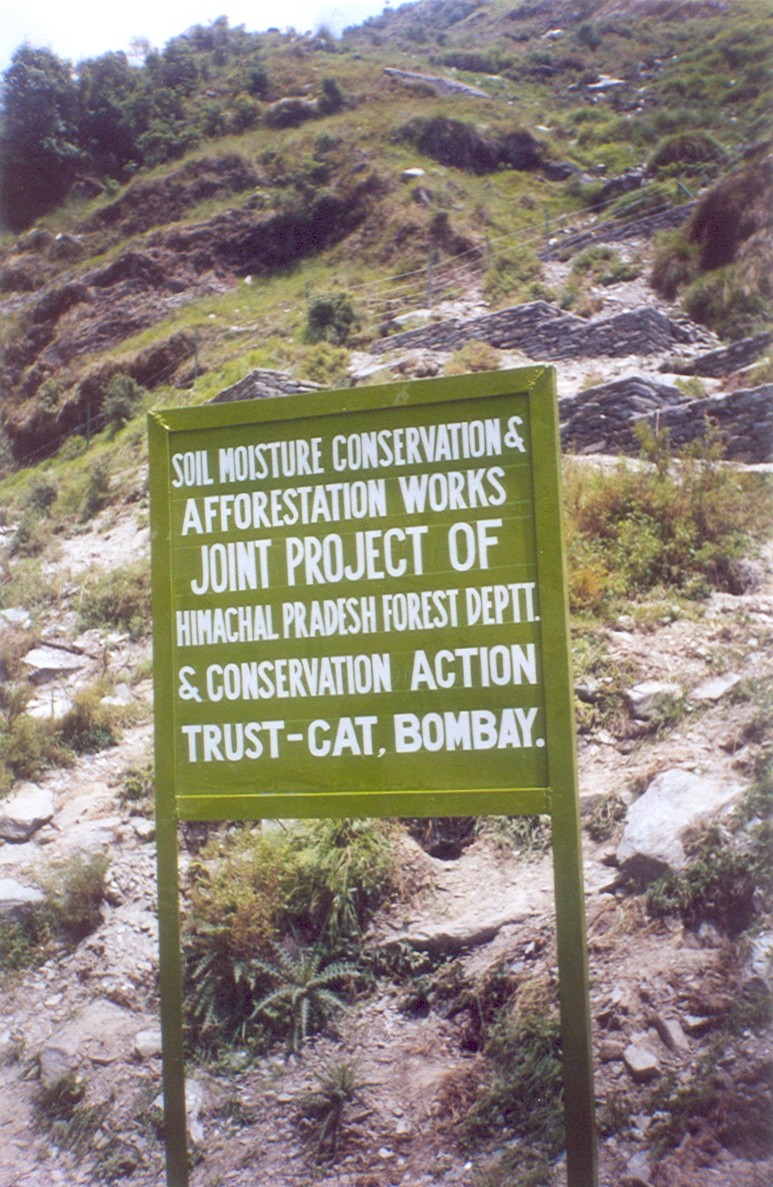 CAT in partnership with the Himachal Pradesh Forest Department is working towards the protection of the environment and ecology of Dharamsala Forest Division which is under pressure due to increasing biotic interference.
Forest degradation and habitat destruction are commonplace scenarios in the forests of India today. Large scale human interference and accompanying anthropogenic factors have converted pristine green forests into rocky, barren areas. The State of Himachal Pradesh is no exception. The Forest in Dharamsala Forest Division has been degraded over time resulting in empty slopes subject to all factors of erosion. Large scale exploitation of the land for slate at the P 49 K Chakban area severely damaged the area exposing it to extensive soil erosion and deforestation.
With the goal of restoring the P49 K Chakban to its initial state ,CAT embarked upon this important Afforestation project in 2007. A complete scientific plan was drawn for the afforestation of the denuded area.
In May 2007, the first phase of the Soil Moisture Conservation and Afforestation project was successfully completed with the introduction of Dangis (Loose Boulder Masonry) on site. The introduction of Dangis was to prevent water run off in the area, to enable soil moisture conservation and to stabilise the area in preparation for tree and grass plantation. The Dangis were also built using stones lying in the area.
In June 2007, pits measuring one sq. ft were dug to accommodate saplings of different indigenous plant species before the onset of monsoon. Following this, in July – August 2007, 1210 of these pits were used for plantation whilst the remaining ones were to help retain water and prevent direct runoff.  Six varieties of trees were planted in the P 49 K Chakban area of Dharamsala as a part of this essential initiative to increase the green cover in the area. Apart from planting of more than one thousand trees, four different varieties of robust grasses have also been sown to help bind the soil.
In May – June 2008, a total of 2629.6 cubic feet of Dangis was constructed in an area admeasuring 210 running metres along the periphery. Fencing of this area was carried out to prevent the entry of grazing animals. Along with this, the fencing done on earlier sites was also interwoven with thorny bushes to enhance protection of the area from grazing animals. In this phase, 250 saplings of various indigenous trees were planted some of them being Quercus incana (Baan), Cedrus deodara (Deodar) and Albizzia chinensis (Ohi).
Through this project we hope to establish a model that can encourage similar activities and projects which can be implemented in denuded/degraded areas with active participation form the local inhabitants. We also hope to create awareness among the locals regarding the importance of forest and benefits they can derive from it.
The project site was inspected in November 2008 by the CAT team. It was observed that the green cover of the area had increased substantially. According to the locals the area has stabilised over the period of two years as there was a decrease in the intensity of landslides and the vegetational cover had also increased. This indicates that the technique of soil moisture conservation and the afforestation efforts of CAT has been a success.
Soil Water Moisture Conservation and Afforestation work for the year 2009 began on 14th May . The area enclosed this year admeasures approximately one hectare. This year's site lies, adjacent, on the left of the sites previously enclosed by us.
A large single Dangi, of the dimension 188 feet X 2.5 feet X 4.88 feet, was constructed at the base of the site. This dangi will serve three major purposes. Firstly it will impart stability to the entire stretch of land, secondly it will prevent goats from entering the site and thirdly it negates the requirement of fencing on a large stretch. 7 smaller dangis admeasuring 955 CFT were constructed in two nallahs that are path of heavy runoff during monsoon.  Fencing was done in areas that were prone to land sliding as construction of dangis in these areas was not advisable. Poles and barbed wire from the previous sites were used. Total fencing done this year was 180 running meters.  Bush fencing using Barberry branches was done for this year's site as well that done for the previous sites were reinforced.
There is a path running through our site that is taken by the villagers each year during monsoon to take their cattle to higher pastures. After consultation with them, gates have been installed at both the ends of the path.  These gates will be kept locked and the keys will be with the caretaker. In this way the site will not be accessible to all.
825 pits of 1.5 x 1.5 x 1.5 were dug at a distance of 6 feet for plantation. 3 labourers were employed for plantation. Well matured cowdung was added to the pits prior to plantation. Plantation began on 16th July 2009. Plants were procured from forest nurseries at Sukkad, Noli and Kareri. We were joined by some local youths for plantation on 18th of July. The plants planted this year include the indigenous species like:Prunus pardus (Pajja) 100, Quercus leucotrichophora (Baan) 200, Cedrus deodara (Deodar) 350, Albizia chinensis (Ohi) 50,  Poplar spp (Poplar) 45, Soymida spp (Dhuri) 80
Soil from areas where Deodars were growing was transported up the site and this soil was added along with cowdung to some pits in which Deodar were planted. This was done to ascertain if this technique can help increase the survival percentage of Deodar.  Plantation was completed on 21st July. This year's terrain is difficult hence plantation proceeded at a slower pace. A board bearing our name and web address was installed on the site.
Apart from the tree that we have planted over the years, quite a few number of Rhododendrons have established themselves naturally which is a real good sign.
Our project site has developed quite well as a marked increase in the vegetational cover was observed. Almost 50% of the plants that were planted last year have survived and some plants that died were replaced by our care taker.
The land enclosed this year has a better soil cover that the previous ones hence we are hopeful that the survival rate will be better than those achieved previously.