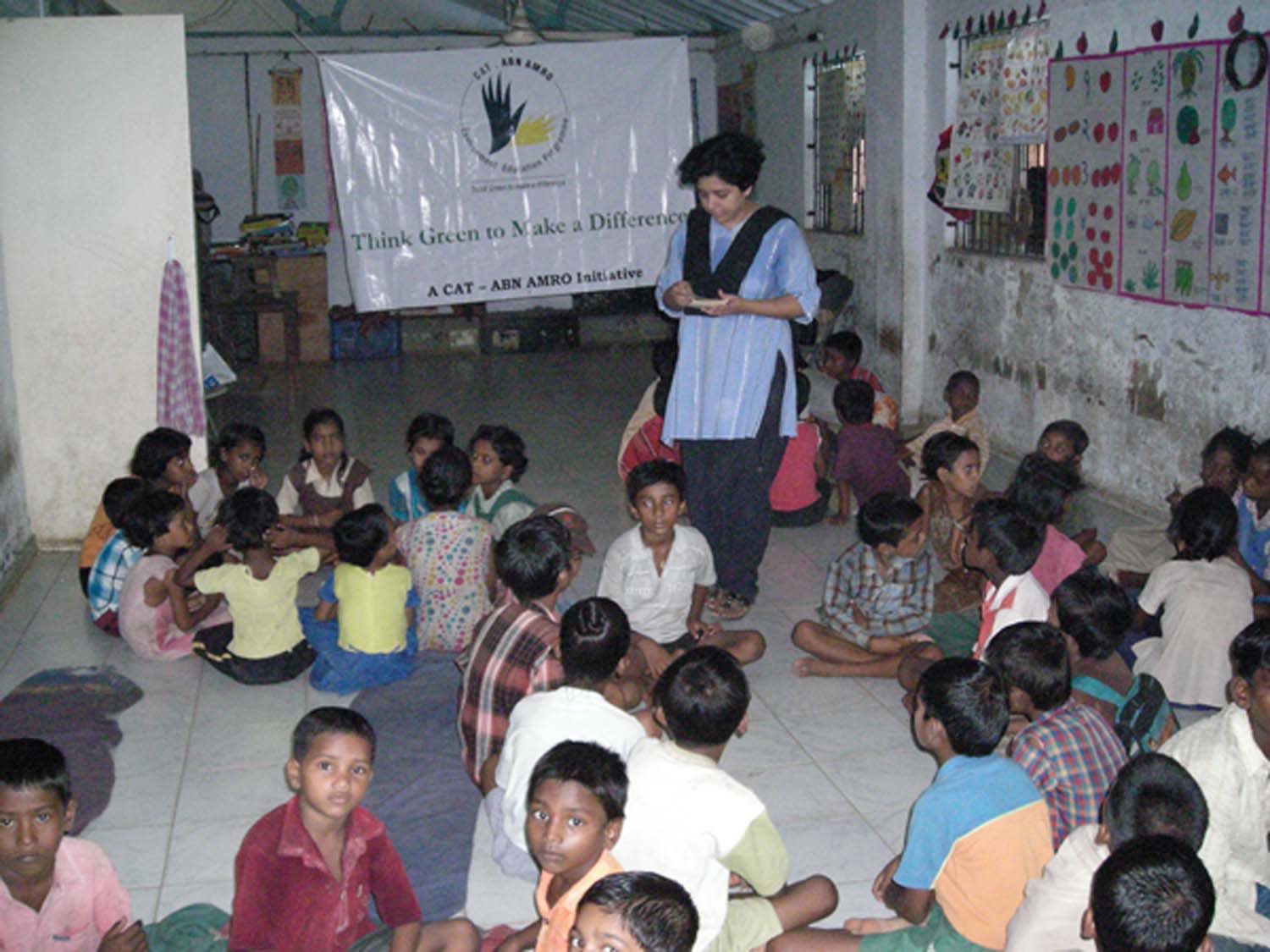 The "Think Green To Make A Difference Project" was initiated in March 2005 due to the growing requirement for expertise in the field of Environment Education.
This surge was a result of the introduction of Environment Science as a compulsory subject in the school circular from the academic year 2004 – 2005 as made mandatory by the Supreme Court on 18th December 2003.
THINK GREEN - AN OVERVIEW
About Think Green
Our 'Think Green' programme aims to increase sensitivity and awareness towards our environment by encouraging teachers and students of all ages to learn about nature. It propagates 'Green thinking' amongst the masses.
It is very essential to know more about your surroundings, environment and the city which you live in.
The team has devised innovative and fun non-formal methods of teaching to make students understand the fundamentals of their environment. Apart from student interactions, interactive Teacher Training Workshops (TTWs) are organized to help teachers inculcate environmental values in students. The programmes will help promote a better understanding of our environment.
According to the Constitution of India, it is our Fundamental Duty to "protect and improve the natural environment including forests, lakes, rivers and wild life, and to have compassion for living creatures". But before we act, we must be armed with knowledge so that we may make an "Informed Decision". Thus, the need to be AWARE is vital.
THINK GREEN - BACKGROUND
CAT's parent organization, The Bombay Environmental Action Group (BEAG) has been protecting India's environment since, 1975. CAT had an upper hand in the field of education as the team had worked with the Manchester Development Education Programme (MDEP) between 2000 and 2003 on the international project titled 'Learning for Sustainable Cities'.
The Think Green team has reached to approximately 1500 students and teachers in the past year and is presently active in about 5 schools. In addition to the regular interactions the students are also involved in various long term projects and inter-school competitions (even at international levels).
THINK GREEN - EVENTS
Student Interactions
We at Think Green have made student sessions very interactive and informative. Games, activities, experiments and many more fun ways are implemented to make students understand the fundamentals of environment and experience the beauty of our surroundings. Interactions with the students were useful in generating curiosity amongst them, sensitising and creating awareness about important environmental issues.
TTW
Teachers are helped with their lessons plans on environment education through training sessions. The sessions are tailor-made according to their requirements and organised as per the time schedule. The modules and lesson plans are devised in such a way, that the teachers can use them during the teaching sessions and are user-friendly as well as eco-friendly.
Projects
Students of 'Think Green Partner schools' are assigned interesting environment-related topics to prepare projects to get an exposure to the outside world. Wetlands Link International-Asia (WLI-Asia) Inter-school Education Programme on Wetland Conservation was one of these projects which help in developing reasoning, observation and problem solving skills of a child.
Some of the Think Green Partner Schools are Sundatta High School, Grant Road; Nirmala Mata Girl's High School, Vasai; St. Xavier's School, Vasai.
THINK GREEN - FAQs
HOW DOES 'THINK GREEN' WORK?
The team either contacts the schools or interested schools get in touch with the organization. We understand the requirements of the schools and based on the curriculum, we plan the workshops and sessions for the whole year.
HOW CAN I/MY SCHOOL/MY ORGANIZATION AVAIL OF THESE FACILITIES?
You simply have to call us at 2512 2422/23 or contact us at georgina@cat.org.in and inquire if the day and time you require for the interaction is available. If yes, the team will book the day for you and a prior meeting will be fixed to plan the activities.
HOW MUCH IS THIS GOING TO COST?
There is a basic cost for the programmes. Contact us for details.
WHAT ARE THE DIFFERENT TYPES OF PROGRAMMES ORGANISED?
We arrange Orientation programmes, Teacher training workshops, Student sessions and interactions, Nature games, Nature trails, Documentary screenings and Concrete projects (such as vermicomposting, making a medicinal plant garden etc) depending upon the willingness and the funds available with the school.
WHAT ARE NATURE TRAILS & WHY NATURE TRAILS?
Nature Trail is an activity where the students get hands on experience with nature. The trail could be carried out within the school premise a near by garden or even a forest area.
Nature trails are important because Environmental Education cannot be taught only in a classroom. Nature trails to eco-sensitive areas will make the students understand the environment in its whole.
WHAT DO THE WORKSHOPS/SESSIONS INCLUDE?
The workshops are always interactive and based on themes selected by the team and the school. The activities designed are inclusive of different methodologies to impart EE in the most effective way. It not only provides data and information but appreciates interactions, inputs and active participation.
DO YOU ARRANGE THE WORKSHOPS ONLY FOR THE SCHOOLS?
No, we also organise programmes for other organisations that are striving hard to educate children, making them aware of their surroundings. The team has previously organised few workshops for Mobile Crèches, an NGO running day care programmes for kids of construction site workers.
DO YOU HAVE A RESOURCE CENTRE?
Think Green programme is putting in efforts to set up a 'Resource and Activity Centre' that can be used by teachers to conduct their own environment education sessions. The organisation has a few resources of CDs, DVDs which are screened (as per the requirement) for our Partner schools and books on environment related issues.
HOW WILL EE HELP IN REGULAR CLASSROOM TEACHING?
EE as a separate subject has been introduced for higher standards – IX & X but it has to be infused in other subject areas for lower standards. The Think Green team precisely does that. It tries to ease the pressure on the teachers by providing lesson plans on different topics & various subjects, where the teachers do not have to work extra hard to develop lesson plans for their respective subjects.
IS EE ESSENTIAL FOR DAY TO DAY LIVING?
EE is a must for all of us for our own survival. Nature has a system of healing itself but has its own limits too. If humans keep exploiting nature to satisfy their unlimited wants, the system will collapse & all of us will be affected.
THINK GREEN -CONTACT US
To reach us, you can mail us at georgina@cat.org.in or
Contact us on 91-22-25122422 /23
Office address:
5, Sahakar Bhavan,
1st Floor,
LBS Road, Narayan Nagar,
Ghatkopar (W),
Mumbai – 400086